---
Listen To and Buy
"Greetings From The Holy Land"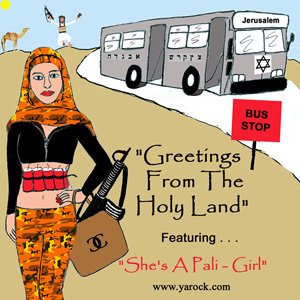 Front Cover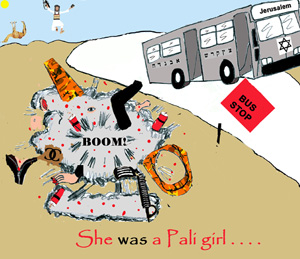 Back Cover
A four song CD featuring:
"She's A Pali Girl" - She's a suicidal "Valley Girl". Like Oh Allah!
"Intinfatada Time" - Welcome to Yasser's terrorist Kindergarden!
"Border Crossing" - 2 "Would be" terrorists attempt to cross the border from Mexico to Texas.
"Bomb Factory" The continuing adventures of Mohammed and Abdul in Palestine. Parental warning!
Choose one of the following 2 payment options to Buy!
1. Paypal - Click paypal link above to buy "Greetings From The Holy Land" for only $7.00, plus $1.75 shipping and handling anywhere in the continental U.S. and charge on the internet. This is a Secure Transaction.

Special! - For an extra $6.00 get "Jihad Rock" CD when you purchase "Greeting From The Holy Land" Featuring "Jihad Rock," "Jihad Johnny" &"Terrorist Nightmares," plus 5 other crazy tunes
---